TROLL HUNTER: THE GAME

Release date
2010
Developed by
(unknown)
Platforms
Facebook app
Troll Hunter: The Game is an application on facebook used as promotion for the Norwegian 2010 film Trollhunter. When the game was initially released you could try to win a Samsung Blu-ray Home Cinema System by sharing the game with three friends on facebook.
Each of the three levels in the game starts with Trolls running out from a path on the right side of the screen, and it's the player's job to trap the animals, with tempters and traps, and kill them, with light-weapons, in order to stop them from reaching the opposite path on the left side of the screen. You buy your equipment with money you earn by destroying trolls. There are 40 trolls in each level, kill them to get money and earn points.
The Dark ForestEdit
The MountainsEdit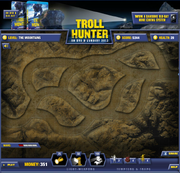 The Barren Ice FieldEdit
Light-weapons
Edit
The torch is the least powerful light-weapon and costs 25 of your money.
SpotlightEdit
The spotlight is slightly more powerful than the torch and costs 50 of your money.
FloodlightEdit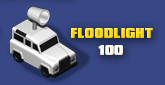 The floodlight is the most powerful weapon and costs 100 of your money.
Tempters & traps
Edit
Tempters are placed along paths to lure trolls into a trap of light-weapons.
ChristianEdit

Christians are used as catnip since trolls can't resist christian blood.

The church is full of christians and a good way of luring trolls to a specific destination.
Since the trolls dislike electricity, if a pylon is placed on the path you will entangle the troll, making it an easy kill for your weapons.
References
Edit
External links
Edit
Ad blocker interference detected!
Wikia is a free-to-use site that makes money from advertising. We have a modified experience for viewers using ad blockers

Wikia is not accessible if you've made further modifications. Remove the custom ad blocker rule(s) and the page will load as expected.